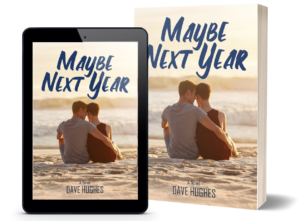 The year: 2007.
Red states are passing constitutional amendments to ban same-sex marriage. "Ex-gay" organizations are thriving and hosting conferences across the nation. Gay conversion therapy practitioners are telling people they can "pray the gay away."
And at Kansas' largest evangelical mega-church, the pastor's son is falling in love with his best friend.
What could possibly go wrong?
Bryan and Chris are high school juniors who have been inseparable best friends for three years. Now, they are discovering that their feelings for each other run much deeper than mere friendship.
Chris, whose open-minded family is completely supportive, is ready and able to live his life out and proud. For Bryan, whose father is the pastor of a very conservative mega-church in a Kansas City suburb, being gay simply isn't an option.
Bryan hopes that maybe next year when they leave Kansas to go to college together, he will be able to live more openly. In the meantime, they must learn how to navigate their conflicting family dynamics and boundaries if they are to fulfill their dream of spending the rest of their lives together.
Everything changes when Bryan is outed. His father will stop at nothing to force Bryan to "leave the homosexual lifestyle," requiring Bryan and Chris to make some very difficult choices.

Learn more here: 10 Questions About Maybe Next Year for Author Dave Hughes
Read a sample chapter here.




Reader Comments
"This truly is one incredible story that left me so thrilled for the future of the main character, Bryan. I cannot wait to see what else is in store."
"When is the next one coming out? You've got me hooked!"
Content Advisory
This book contains references to religion-based homophobia, gay conversion therapy, and same-sex sexual activities. This book does not contain graphic sex scenes.

BUY IT NOW!
(click on a logo to be taken to the product listing on vendor's website)
Paperback

eBook

Other Vendors

Hardcover
Bookstores and Libraries: Available for wholesale purchase from Ingram. Download one-page sell sheet.

Book Clubs: Special bulk pricing is available for orders of 5 or more. Contact the author using the Contact Form, and be sure to indicate which title, how many copies you want, and which country they will be mailed to.